Let us all admit it; coffee is the best friend you have during high-pressure long nights. So many businesses have grown and contributed to our society for the coffee culture. To me, this is the best drink I can think of. And this amazing drink demands an amazing shelter for itself.
Here are my top 30 favourite coffee packaging designs that you might like.
1. Large Size Coffee Bag Packaging
Many consumers long for a package that is large enough to hold coffee beans for the whole family. These bags have a fine outline. Its wide surface can hold a large portion of coffee to satisfy the whole family.
More Infomation
2. Stationery mockup for coffee shop
Coffee shops are available right around any corner. These coffee shops don't buy family packs nor do they buy for the small number of packages. This design is perfect for shelf orientation and decoration.
More Infomation
3. Aluminum foil Sachet design
Sachets are a lifesaver for bachelors and students. It's a great relief for those who are in a rush and need some quick sips to improve their efficiency. These sachets are small and handy for carrying around. You will not need much of a shelf space to store these sachets.
More Infomation
4.Paper-made Coffee Bag
Paper is an eco-friendly material. It is very easy to dispose of. Paper-based packages are cheap and handy to use. But it does not mean the coffee inside will rot in this type of design. Paper packages can be useful, helpful, and beautiful.
More Infomation
5.
Coffee Cup and Paper Bag design
Coffee cups are very handy these days. Office goers can carry them with ease on their way to their work. These coffee holders are easy to carry around and very stylish to look at. If you are owning a restaurant you might want to add these design to your budget list.
More Infomation
6.Black Bag stand up pouch doypack design
Stand-up pouches are always so easy to fit in any corner of the shelf due to their capacity of standing up. Because of the black color, the light around it is absorbed easily which is very good for the package to protect its content.
More Infomation
7.Aluminium Coffee Standing Pouch Packaging
As we already discussed the handiness of stand-up pouches, it is no wonder why it comes in with different materials. Aluminum has always been proven as a very good protector of contents that wraps it up.
More Infomation
8.Plastic Stand Up Doypack With the Window design
Plastic doypack designs are magnificent to look at. Thus it attracts plenty of consumers. With a window in its face, it allows the consumer to sneak a peek at the goods they are about to consume.
More Infomation
9.Metallic Stand Up Pouch with Zipper design
Metallic designs are a new-age trend. To the young generation, it creates a sense of trust because of its metallic body. The product inside protects the coffee beans. And with a zipper, it becomes an easy-to-use package.
More Infomation
10.Matte Coffee Bag with Valve design
This type of package is very good for storing items for a good amount of time. Because of its valve-like design, coffee beans can be put inside easily. It has a protective layered body that keeps the well safe and sound. These bags are tamper evident thus creating the sense of trust between consumer and the seller.
More Infomation
11.Matte Metallic Coffee Bag design
Matte metallic bags are beautiful to look at. Its shape is handy to accommodate a large amount of coffee. This bag uses up less storage despite being capable of holding a large amount of beans.
More Infomation
12.Matte Coffee Bag with Tin-Tie design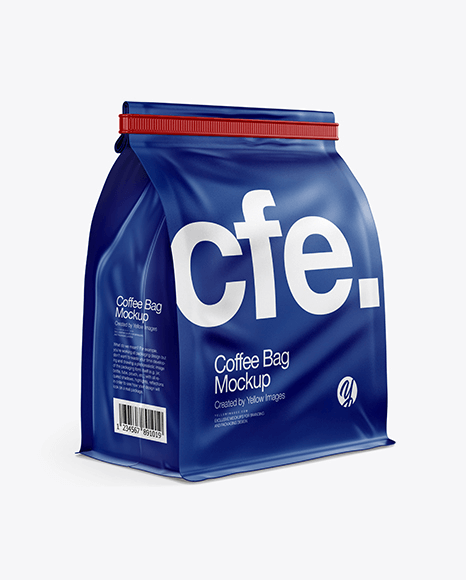 This chubby-looking design looks small but holds a large number of coffee beans. This package is widely used all around the world. This design is very handy for coffee packaging.
More Infomation
13.Metallic Coffee Bag design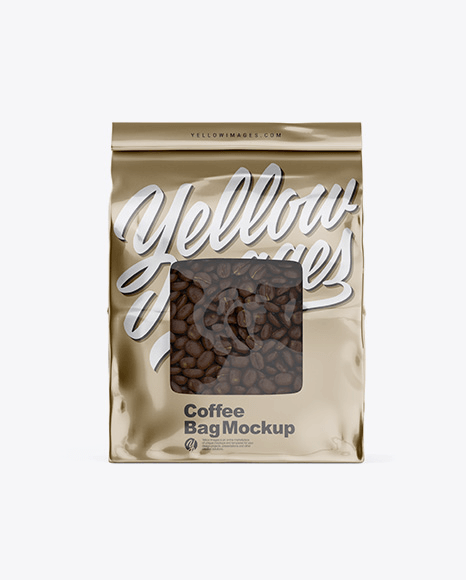 metallic coffee bags are beautiful to look at. These coffee packages are used all around the world because of their tough-looking outlook.
More Infomation
14.Coffee Bag and Cup design
Coffee cups have always been a great help to serve coffee. With a brand name on it, customers tend to learn about the company that's serving them, it is a great marketing tool. And paper bag design also attracts customers.
More Infomation
15.Flat Bottom Bag design
Flat bottom designs occupy a large amount of surface area. This enables the coffee beans to spread out in a larger portion of the area. Flat bottoms look nice on the shelf and draw attention to the customer passing by,

More Infomation
16.Paper Bag with Window Poster design
windows are always good for a quick sneak to peek at the product. Consumers do not have to trust the brand blindly. Transparent windows create transparency in the coffee business growing trust between brand and consumer.

More Infomation
17.Brown Sealed Coffee Bag design
sealed bags are very reliable to safely guard the product inside. These seals are tamper-evident seals that build trust.

More Infomation
18.Coffee Pouch design
Coffee pouches of a large, medium, and small sizes are in regular demand. These bags are being used all over the world from the top level to root level brands.

More Infomation
19.Stand up glossy foil pouch bag design
Glossy pouches catch eyes faster than anything in the store. These pouches come in different shapes, designs. These bags are equally beautiful and handy for consumers.

More Infomation
20.Coffee cup with floral design
Floral designs are pretty famous these days on cups. This is drawing more and more consumers with its beautiful design and tell me who does not like flowers.

More Infomation
21.Snack paper bag design
Coffee is a must drink in leisure time or in pressure time. What could be better than keeping an easy snack pack in your bag for an instant coffee break?

More Infomation
22.Luxury Tube Pack design
Coffee culture has brought about a great deal of art. Sometimes it brings a sense of luxury. What could attract an aristocrat consumer than a fancy box that contains the beans for the fancy drink?

More Infomation
23.Small size coffee bag packaging design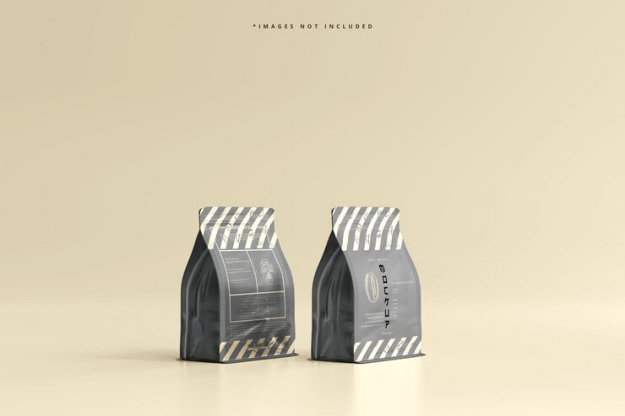 Small families do not need to store coffee beans for months. A small package is high in demand for small families. These packages are beautiful and safe for the seller and the consumer.

More Infomation
24.Craft doypack design
Crafty bags are always in demand for consumers with a good sense of art and craft. Also to general people, it is the first thing they will notice on the shelf. And the window design is likely to allow the consumer for a quick sneak peek.

More Infomation
25.Take away design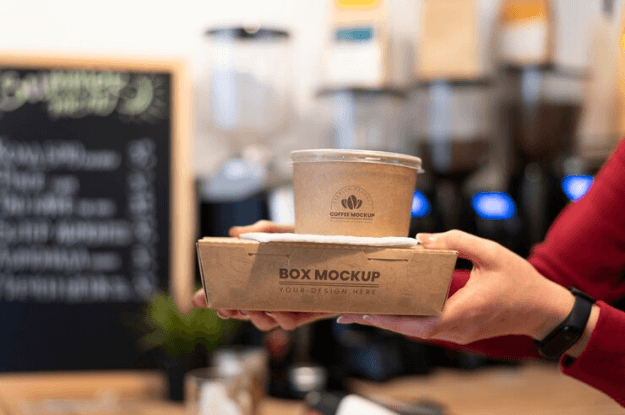 Cup holding take-out boxes are best for not dripping a single sip. These boxes are beautiful and easy to carry around from a day to day like a coffee drinker.

More Infomation
26.Coffee box container design
Coffee packages have so many designs. Plastic bags, foil bags, tin boxes, etc.
Coffee box containers are great for the long-term preservation of coffee beans keeping their taste intact.
More Infomation
27.Pastel bag design PSD with paper cup food and beverage packaging
Just looking at these coffee cups and bags consumers want to buy the goods. These beautiful bags are attractive to look at and equally useful to carry out.

More Infomation
28.Navy blue paper coffee cup design
Navy blue always feels classy. Branding on these coffee cups is really easy. you can use your creativity for keeping the classy feeling.

More Infomation
29.Luxury coffee packaging box
Coffee is a necessary luxury. Coffee packages sometimes tell that story. This luxury box design is amazing to look at. It adds luxury to the shelf it stays on.

More Infomation
30.Stand up glossy zipper pouch bag design
zippers are always so cool with these coffee carrying bags. Glossy bags with a zipper just takes away all the shine from other packages residing on the shelf.

More Infomation
Conclusion
All these designs are quite beautiful and eye catching. You can pick from any of these designs and create the best package for your brand. Always remember branding depends in image of the company and the image must reflect on the package body. Ultimately consumers make choices between you and your competitors based on your quality. If you share same quality value, the deciding factor is your package design.
Contact PKGMAKER now for making your brand larger than. We'll give you the best packaging solutions that money can buy.