The weed business has been getting more profitable in the USA in recent years. More and more people are consuming weeds, whether it's for medical or recreational purposes. The popularity of your products hugely depends on your packaging.
The recreational and medical marijuana industry is exploding — so are the opportunities. Your package matters almost more than your product itself! You need to be able to tell people that you have some of the finest weed in the country. All your competitors are spending thousands of dollars on their cannabis packaging designs because nowadays, your customers buy with their eyes, not only with their brains.
The competition has never been that much strong, but as long as companies keep creating high-quality goods with innovative ideas for creative branding strategies and top-notch customer service, the competition is getting more challenging than ever.
The value of Marijuana Pouches is totally unavoidable when it comes to an effective marketing strategy for a business. All businesses are trying to make their packaging more attractive than their competitors. Custom Cannabis Packaging is an excellent choice for branding because its eye-catchy design makes more people notice it among your competitor's products. Catching the attention of your customers increases the chance of purchasing. Also, your brand image depends a lot on your packaging.
Pouches can talk with the customers via all the information about your brand and the description of your product written on them. Different designs and logos tell a different story about a company and create a unique brand image. Most of the time, bad-looking packages make people deny buying the product, which can drown the business into losses.
After thinking deeply about your business and your customers' demand, we have created many sizes and shapes for adjusting your products inside the pouches. As you know, you can customize your packages according to your needs. We have different shapes and sizes of cannabis bags for you. As in: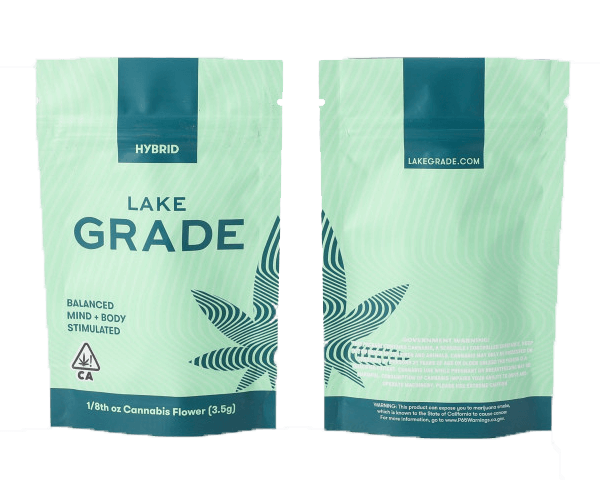 Stand-up Pouches
are perfect if you want your packages to stand up on the store display shelves. It makes people notice your product first when they come to buy or just check. These pouches are sealed on three sides and blocked in the bottom. So it's easy to open and reclose whenever you need. Stand-up pouches are really perfect for cannabis and other edible products because it makes your customers look at your products first.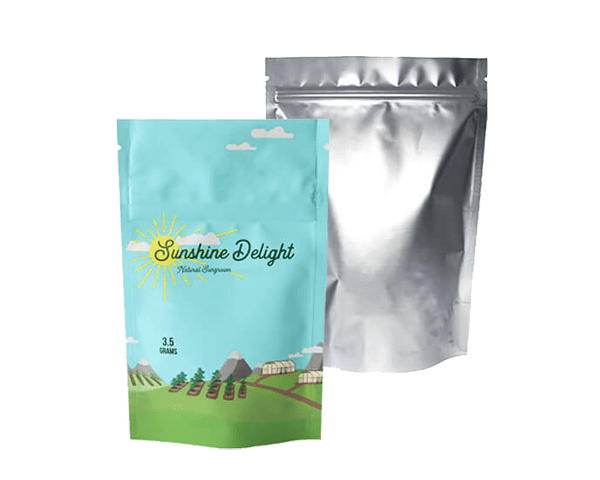 Lay Flat Bags
are also helpful if you don't need to keep your products stand up on the store display shelves. There are many shelves that are designed to hold flat bags. So obviously, you don't need your bags to stand up there. Lay flat bags are only suitable for those shelves.
3 Seal Cannabis Pouches are excellent choices for weed and cannabis packaging. These Pouches with a bottom load configuration can keep up with your customer's busy schedule. They don't need to mess with zippers, and the top of bags come pre-sealed from our factory!

Request a Quote
If you want more variety, we have Square Bottom Pouches which are an older configuration of the stand-up pouches, still popular in this industry. They provide stability and allow for upright standing. The variety in styles makes sure there is one perfect for whatever you want; whether it's reclosable features or block sides.
Now, maybe you are thinking, why choose PKGMaker? We allow you to easily create custom-made packaging that features your own design. We also require no minimum orders and have established a reputation for being a high-quality supplier of flexible packaging. That means you can rest assured that you will receive high-quality packaging at the lowest prices.
You can also count on getting packaging that fits your product and helps it stand out in the marketplace to get more sales. Our packaging is space-saving, cost-saving, leak-resistant, odor resistant, always made of the finest materials, and features the highest quality design and production work. Last but not least, we have 24/7 impressive customer support. Whenever you need help from us, we are bound to assist you. Let's show you some top advantages we can provide you with our cannabis pouches:
1. Smell or Odor Proof Bags: We have smell-proof bags for your products that restrict the weed smell from coming out of the bag. In most places, weeds or cannabis are still taboo. People take it negatively when they see someone smoking weeds. Smell-proof bags can save you from these types of embarrassing situations. Smell-proof bags are also a great way to ensure the safety of your weed while also providing you with some peace of mind. These bags will never let the smell come out of the bag even if you take the bags near your nose, no matter how strong your smelling power is. So, we can proudly assure you that we have the best smell-proof bags for weed packaging.

2. Customized Design:
You can customize your bags with your own designs and logo. Actually, your customers buy the look and appearance of the product more than the product itself. The design of your bags speaks about your product quality and your brand. You may have a fantastic design in your mind for your bags, which you can print out in reality. We have a whole bunch of in-house designers who can help you to draw whatever design you have imagined already, so you don't need to worry about drawing it yourself. We use a high-quality digital printing process, so your design won't fade out over time.
3. Choose Shape and Size:
We have a lot of shapes and sizes in our catalog. You can select the shape according to your needs or you can order all the shapes if you want to create different packaging for marketing.
4. Resealable Bags:
One of the best parts of our bags is, they are resealable and temper-evident. According to the Law, cannabis bags must be resealable. This feature will keep your products safe from stealing or leaking from the bag. Because there is a special seal on the bag that is pre-attached from the factory, when someone attempts to open it, they must break the seal. You will know if your bag has been opened before. That means your product is totally safe and secure.
5. Reclosable Pouches: Our cannabis pouches are reclosable, which lets you close them again after opening. You can use it like a box, which you can close every time you open it. Because of its airtight feature, it will protect your cannabis from the outside environment like air, light, oxygen, etc. So these pouches are perfect for maintaining the cannabis' quality for a longer period of time.

6. Non-transparent Bags: These cannabis packages are totally opaque or non-transparent. Since weeds are still taboo in many places, you can not show off everywhere that you are carrying weeds. It can take you into huge trouble. Keeping it non-visible while carrying it anywhere is the safest option to avoid such types of situations. Also, opaque bags are mandatory by the Law of cannabis packaging.

7. Child-Resistant Pouches:
Resealable and opaque features made these pouches child-resistant. According to the Law, cannabis pouches must-have features to make them child-resistant. Children can't open it because it's resealable. Above all, they can't even notice whether there is something inside the bag as it is opaque, let alone to be curious about it. So, your products are totally safe from kids' attacks.
8. Waterproof Bags: Ever thought about what if it starts raining or your bag falls into the water? Now you don't need to worry about it. Our cannabis bags are waterproof and airtight so they will keep your product safe from getting wet and being ruined. A single drop of water can't touch the cannabis even if you drown the whole bag into a pool and keep punching on it. So, it's very safe for traveling with these bags as it can save your product in any hostile situation.

No, that's not all. You will find many more features when you will use our product. Let's say that we are keeping the rest of the points for your personal experience with us.
Now you might think about the delivery time, how long do you have to wait for receiving your pouches? Well, since we have the -fastest delivery time among all other companies, we can hand over the products within 7-14 days after accepting your order. We know the importance of being on time, so we won't let you waste your precious time for us. As there is a saying, Time and Tide wait for none!
And what about our minimum order quantity, right? The answer is, we don't have any minimum order quantity. You can order how much you need. We can realize that someone might need less than our minimum order requirements as everyone's businesses are not the same. So we didn't fix any minimum order quantity. Any number of orders is open for you!
Request a Quote