The function of food packaging is quite simple. Keeping the freshness, crispiness, and taste of the food intact. But the design, the material, and the quality of the food pouches need to be top-notch as well. Because without using good food packaging supplies, there is no way to make good food packaging. Therefore, no way to keep the content intact and fresh.
Now, you may wonder whether food packaging matters much or not. If we were to list the decisive factors that indicate the freshness and quality of a food product, packaging will stay at the top. When a customer chooses a bag of chips or candy in a store, they check whether the food pouch is sealed or not along with other things. If the bag is sealed tight, it indicates safety and utmost freshness.
The ideal food packaging should be chosen based on the content inside and the purpose. All products don't have the same shelf life, therefore don't require the same protection for the same amount of time. Is the content inside liquid? Is it dry and can become stale without the proper barrier material? Is the pouch going to stand on a shelf?
After considering everything, we have created a wide variety of food pouches. From different shapes, sizes, to different protection levels and additional features, we have everything here, at PkgMaker. Let's take a look at some of those options:
Stand-up Pouches
are the most commonly used packaging for food. The name itself is self-explanatory. These pouches are ideal if you are going to display your product on a shelf in a store. A stand-up pouch is the ideal packaging to make customers notice your brand and the product.
These pouches have a bottom gusset which once deployed, creates a space sturdy enough to make the pouch stand. You can add zipper closure for extra user comfort.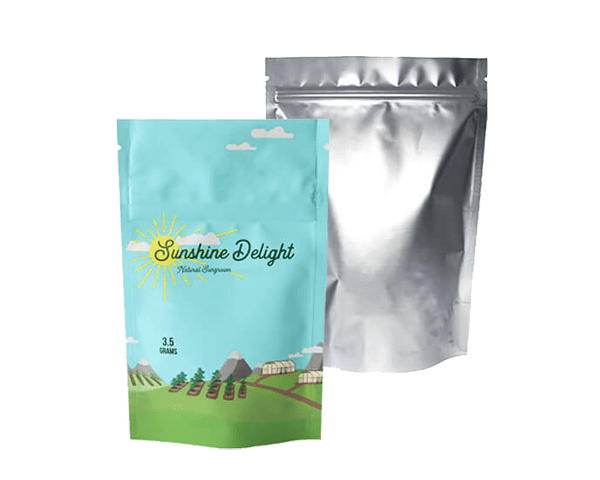 Lay Flat Pouches
are ideal for products that are not standing on a shelf. For example, if you are selling a pack of 12 contents, they can lay flat inside the box where they don't need to stand. But there are some shelves that display flat pouches.
3 Seal Cannabis Pouches are excellent choices for weed and cannabis packaging. These Pouches with a bottom load configuration can keep up with your customer's busy schedule. They don't need to mess with zippers, and the top of bags come pre-sealed from our factory!

Request a Quote
Side Gusseted Bags can stand up just like the "stand-up" pouch but instead of having a bottom gusset, they are made with side gussets. The bottom of the bag is flat and the sides have gussets which once deployed, hold their shape and stand perfectly.

4 Seal Pouches are ideal if your product needs extra protection. The 4-seal pouch looks a lot like the side gusseted bags but with more protection and more room for product.

8 seal Square Bottom Pouches have been around for a long time. You will surely find one in the nearest store. Its flat bottom and gusseted sides make it sturdy and ideal for displaying or storing on a shelf. The top of the pouch can be folded down.
Disposable food packaging made of cheap and harmful plastic is slowly ruining the climate. Severe pollution caused by single plastic usage, plastic pouches, and unrecyclable plastic has caused an uproar among many consumers.
Now, sustainability matters the most in food packaging and sustainable food packaging supplies are in demand. According to Nielsen, 75% of people are willing to reduce the usage of unsustainable packaging to reduce pollution. Meanwhile, 90% are willing to pay more for sustainable food packaging.
According to a survey done by Mintel, 52% of shoppers prefer no packaging or minimal packaging to reduce packaging waste.
Sustainability not only enhances and improves the packaging of your product but will also improve and establish your brand. Customers want the companies to do the "right thing" which means lessen their impact on the climate as much as possible.